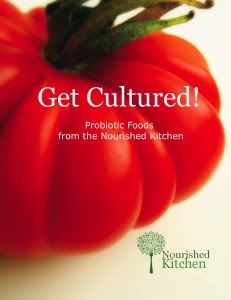 I am very interested in nutrition. Good food and nutrition is one of the driving forces behind AmLo Farms. So I am very pleased to have been asked to help promote a new E-Course from Nourished Kitchen called, "Get Cultured! How to Ferment Anything."

It has only been in modern times that we as a society don't eat as much fermented food anymore. With preservatives added to most foods found on the grocery shelf, fermenting is quickly becoming a thing of the past. But preparing foods in this manner not only preserves the food for up to 8 months in your refrigerator, it also provides specific nutritional balance to your digestive system, which in turn keeps your body working as efficiently as it can.

The book, Nourishing Traditions: The Cookbook that Challenges Politically Correct Nutrition and the Diet Dictocrats
, is a great starting point. It advocates getting us back in balance through traditional eating. Yes, meat is advocated as is the ever important fermentation of foods, including grains. There are many sites which provide specific information about this way of eating. A couple of them are:

The Family Homestead
Weston A. Price Foundation Wiki

And one of my favorite sites, Cheeselave, has listed 8 Reasons to Eat Fermented Foods.

I won't go into the details here on the actual process, the sites above provide great information on all of that. I would like to encourage anyone who is interested in learning the process in depth to check out this new E-Course Nourishing Kitchen is offering. It is an in depth series of classes that will literally change your life. Classes begin March 4th with registration ending Februrary 28th. You can sign up here for the entire series ($149) or individual classes ($20).

See for yourself the benefits and healing aspects of even adding just a few fermented foods to your diet.

Hope you enjoy! Peace!